Module for the depuration of net income.

Mark of frauds and scams.

Control of time standards for verifications.

Comprehensive reporting and monitoring information.
Application that allows full control of the processing of a credit, verification of information, reading of scanned documentation at the point of sale, verification of compliance with the conditions of policies, product policies or particular conditions of the analyst.
Home address verification check
Work address verification check
Income purification module; control of AFP revision, income, DAI, IVAS, contracts.
process at all stages
Mark of frauds and scams;
Control of verification time standards
Verification control of signature of documentation (promissory note, credit application, DPS, CAE, Mandates, etc.).
Verification and revision customisation module
Digital folder control, avoiding physical folders in stock and the loss of them.
Complete reporting and monitoring information, so as to allow control of the process in all its stages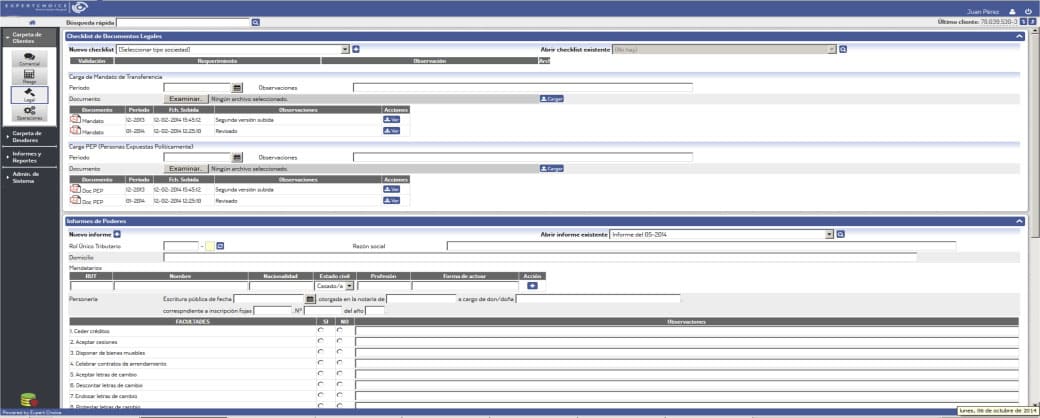 System that allows the control and verification of the documentation required by credit policies, according to product type, exclusion policies, particular conditioning of analysts, income purging, verification of financial statements, legal requirements, allows the detection of fraud and scams in the supporting documentation of credit applications.
Customisation hh hh
(Start up) [2] [3] [3]
Monthly slate price
(Unlimited use of licences and unlimited use of consultations) [1].
[1] Technical operation of the platform, backups and maintenance in Expert Choice environment.
[2] Maintenance and operations contract for one year.
[3] Development in Java language and ORACLE database.